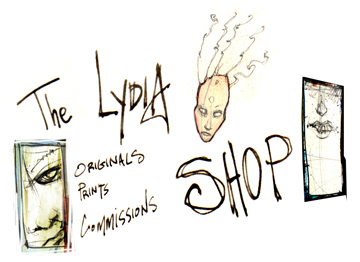 Please visit my ETSY
where here you will find originals, prints and other oddball creations.
OR BUY PRINTS directly from my website.



COMMISSIONS and CUSTOM work:
I offer custom work for a reasonable price.
Imagine the possibilities!

HAVE AN EVENT?
Invite me to vend or paint live!

Contact me for requests, and I'll give you a quote: lydiaburris@gmail.com



Surprise Art Fund!
Do you just want a surprise? Donate to the Surprise art fund!
Anyone donating money will receive a work of art in the mail.
$5 or more will get you art! Even if its a letter with drawings on it!
The more the donation, the greater the art.
THIS BUTTON IS NOT FOR THE WEAK!
THIS BUTTON IS NOT FOR THE PICKY!! (Although hints are allowed!)
This button will take you to PAYPAL!





---