CONFIRMED 2016 EVENTS and APPEARANCES:


* March 4th * ART SHOW
FIRST FRIDAY Art Walk
FUNKYARD COFFEE SHOP AND GALLERY.
I will be in attendance with originals, prints, and other delights!
Art will be hanging at the gallery through the month.
1114 Prospect Street. Indianapolis, IN 46203
~~ LINK ~~
* March 18-20 * CONVENTION
HORRORHOUND WEEKEND CINCI
I have a booth! I'll be bringing originals, prints, and taking portrait commissions!
Sharonville Convention Center, 11355 Chester Rd, Cincinnati, OH. 46246
~~ LINK ~~
* March 25-27 * CONVENTION
FULL MOON TATTOO and HORROR FESTIVAL
I will have a booth and LOTS OF ART!!
Nashville, TN.
~~ LINK ~~
* April 29-30 * ART EVENT
THE STUTZ ARTIST OPENHOUSE
Open Studios at the Stutz - over 70 artists!! Come take a dip into my madness in studio A-250!!
See the art space, and meet Brunhildegard the mannequin, she's been waiting for you.
The Stutz Business Center, 212 W. 10th St. Indianapolis, IN. 40202 - STUDIO A-250!!!
~~ LINK ~~
* May 7th * MUSIC and ART EVENT
BIZARRE NOIR: Magical Sexy Circus! **9:00 pm
Do YOU Bizarre Noir? Come see a variety of acts from sideshow to strange music, featuring art vendors and other fun goodies!
I've been invited to attend and bring my own brand of weird art to the mix!
5th Quarter Lounge - 306 Prospect St, Indianapolis, Indiana 46225
~~ LINK ~~
* June 17-19 * CONVENTION
INDY POP CON
I'll be displaying original art, prints, and more at this show! Booth 729
Indianapolis, IN.
~~ LINK ~~
* July 2nd * ART SHOW
Skateboard Art Show
An extravaganza of creativity as artists ART on skateboards!
Held at Prophesy Ink tattoo and piercing shop. 907 Baxter Ave, Louisville, KY 40204
~~ LINK ~~
* July 8th * ART SHOW
OBSOLETE ARTIFACTS
First Friday!! A group show featuring artwork made from Obsolete Artifacts!
Hosted by Sun King!
The Stutz Business Center, 212 W. 10th St. Indianapolis, IN. 40202
* July 29-31 * CONVENTION
FANDOM FEST
I've been invited to vend at Fandom Fest! I'll be bringing fantastic new work and painting live!
Louisville, KY.
~~ LINK ~~
* August 4-7th * ART EVENT
BIZARRE BAZAAR: An Alternative Art Extravaganza!
A group of bohemian artists convene at the Indianapolis Artsgarden to show you their amazing art and glorious things! We are the misfit artists in the crystal palace! The Artsgarden is only 2 blocks away from the Convention Center, where the nations largest gaming convention will be taking place on the same weekend! If you happen to be going to GenCon that weekend, make sure to come see us too!! 11 artists! Details at the link:
~~ LINK ~~
** August 5th * ART SHOW
COMING BACK HOME: 20th Anniversary of the Stutz Residency Program
First Friday!! The Stutz Artists Association is celebrating the 20th anniversary of its Residency program with a group exhibition that brings together past Stutz Residents! The show runs through August 26th.
The Stutz Business Center, 212 W. 10th St. Indianapolis, IN. 40202
~~ LINK ~~
* Sept 2-5th * CONVENTION
DRAGON CON
I am so excited to be accepted into the ART SHOW at Dragoncon! I will have a 4 panel display bay, and I may be doing an art demo - schedule TBA!
Atlanta, GA.
~~ LINK ~~
* September 9-11 * CONVENTION
HORRORHOUND WEEKEND INDY
I have a booth! I'll be bringing originals, prints, and taking portrait commissions!
Indianapolis, IN.
* September 21st - Oct. 28th * ART SHOW
Mix and Match
Mix and Match is an exhibition focusing on mixed media by and students enrolled in Fine Arts, Photography and Visual Communications at Ivy Tech. Works by faculty will be included in the show.

* September 30 - Oct 2 * CONVENTION
SCAREFEST
After a two year hiatus (due to overlapping schedules) I am finally coming back!!
Lexington, KY.
~~ LINK ~~
* October 27th through (TBA) * Holiday EVENT
Playground Production Studio
I will be one of 3 artists displaying work at the Playground Production Studio.
The studio will be hosting the "HOTEL HOLMES HAUNTED HOUSE"
5529 Bonna Ave #10, Indianapolis, IN 46219
~~ LINK ~~
* October 27-29th * ART SHOW
DAMNED An Exhibition of Enlightened Darkness
"From the infamous to the freshest of local and international talent, this prodigious congregation will allow us a glimpse within the diverse shadows of id and ego…of overall mind and encompassing soul guaranteed to intrigue, disturb, inspire or repulse."
Tangent Gallery / Hastings Ballroom, 715 E Milwaukee, Detroit, MI 48202
~~ LINK ~~
* October 28th * ART SHOW
First in Line
Fundraiser for IDADA (The Indianapolis Downtown Artists and Dealers Association) - All work sold at just $100! 50% or 100% going to IDADA, to help fund their involvement in the thriving Indianapolis Art Community. A fun night for all!
Art Bank, 811 Massachusetts Ave, Indianapolis, Indiana 46204
~~ LINK ~~
* November 19th * ART SHOW
The Sixth Annual Maleficium Dark Art Exhibition
Curated by J. Anthony Kosar! Chicagoland's LARGEST Halloween Themed Art Show featuring Award-Winning Artists of All Media! The show runs through December 16th.
Kosart Gallery, 760 Burr Oak Drive, Westmont, IL 60559
~~ LINK ~~
* November 25th - 27th * CONVENTION
Fright Night Horror Weekend
I am honored to attend Fright Night as a guest!
the Fern Valley Hotel & Conference Center, Louisville, KY.
~~ LINK ~~
* December 2nd * HolidayEVENT
KrampusNacht Indianapolis
Join us at New Day Craft at 1102 Prospect in Fountain Square for a visit with Krampus! Bring a toy to donate to Toys For Tots for a chance to escape a lashing from Krampus! Stick around after 9PM for a stroll through Fountain Square!
~~ LINK ~~
* December 2nd * ART SHOW
The Stutz 2016 Holiday Openhouse
The Stutz is opening its doors and the gallery for an open studio night! 5-10pm. Make sure to come see my studio, Suite A-250! The holiday gallery exhibition runs through Dec. 2-16.
212 W. 10th St, Indianapolis, IN.
~~ LINK ~~


If you would like me to attend your event, please contact me ~ lydiaburris(at)gmail.com

EXCELLENT MISCELLANEOUS NEWS in 2016!




CRAZYMAIL:


* I started a Patreon in August and I am offering crazymail as a reward for your support. Get letters and art delivered right to your post-box!!
~~ LINK ~~



ILLUSTRATION:




* CD COVER: Bizarre Noir - Pop Songs for Ugly People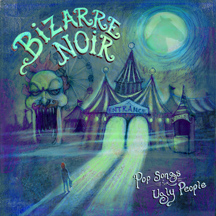 Check out their facebook page! ~LINK~


TEACHING:


* Ivy Tech: Color Theory and Design (16 week semesters)
* Ivy Tech: Drawing I and II (16 week semesters)
* The Art Institute of Indianapolis: Observational Drawing (11 week semesters)
* August 15, drawing workshop at Nickel Plate Arts, Noblesville, IN. (How to loosen up, be fearless, let chaos in, and how to be playful with drawing, to unlock potential new pathways and idea generation.)



EVENT COORDINATION:


* August 4-7th - Bizarre Bazaar: An Alternative Art Extravaganza!: The 4 day art bazaar held in the Indianapolis Artsgarden! 11 artists. Music performances daily.