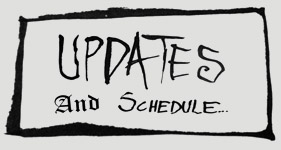 CONFIRMED 2018 EVENTS and APPEARANCES:


* March 17-19th * ART SHOW
MANmade
A group art show celebrating the 200th anniversary of Mary Shelley's Frankenstein!
LOCATION: Harrison Art Center: Speck Gallery, 1505 North Delaware, Indianapolis, IN. 46202
~~ LINK to Harrison Gallery Article ~~
~~ LINK to Facebook Event ~~
* March 23-25th 2018 * CONVENTION
HORRORHOUND WEEKEND
I'll be vending my art at this fantastic convention! I've been doing Horrorhound for many years and its always a favorite! This year Ron Pearlman will be in attendance!
Sharonville Convention Center, 11355 Chester Rd, Cincinnati OH.
~~ LINK ~~
* April 27th and 28th * ART EVENT
THE STUTZ ARTIST OPENHOUSE
Open Studios at the Stutz - over 70 artists!! Come take a dip into my madness in studio A-250!!
See the art space, and meet Brunhildegard the mannequin, she's been waiting for you.
The Stutz Business Center, 212 W. 10th St. Indianapolis, IN. 40202 - STUDIO A-250!!!
~~ LINK ~~
* August 2-5th 2018 * CONVENTION
GENCON
I'm honored to be vending again at GenCon! I'll have a large booth. Look for me behind Studio deSade!
Indianapolis Convention Center - 100 S. Capitol Ave, Indianapolis, IN 46225
~~ LINK ~~


If you would like me to attend your event, please contact me ~ lydiaburris(at)gmail.com>

Join My Mailing List
*Sign up Here!!*



EXCELLENT MISCELLANEOUS NEWS in 2017!




TEACHING:


* Ivy Tech: Drawing I and II




CRAZYMAIL:


* I am still offering crazymail as a reward for your support. Get letters and art delivered right to your post-box!!
~~ LINK ~~




SEE THE ARCHIVE OF EVENTS
2017 HERE.
2016 HERE.
FROM 2014 and 2015 HERE.
FROM 2011, 2012, and 2013 HERE.
*Updated February 16th 2018*
---
Return to Main Menu